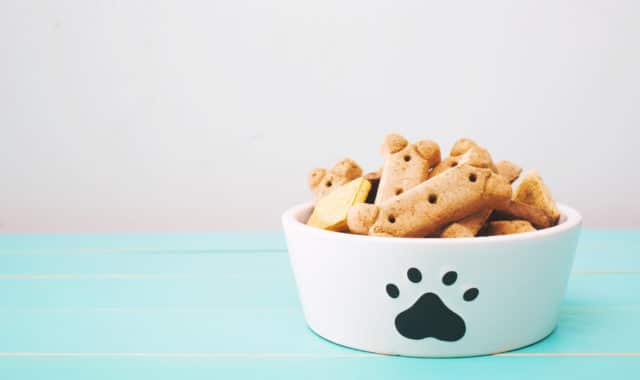 Who doesn't love dogs?
What's not to love? They're loyal, they love you no matter what, and they are so darn cute!
With 89.7 million dogs living in American households, dogs are big business.
Are you the type of person concerned with the safety of commercial dog products such as food, treats, and remedies? Do you like to keep things natural when it comes to your four-legged friend? Natural remedies? Natural food? Natural treats? Natural flea preventative?
Your best friend deserves the best and definitely deserves a treat every now and then. Take a look at these five quick, easy, and healthy dog treat recipes you can make yourself.
5 Dog Treat Recipes
Making homemade dog cookies or homemade dog treats is easier than you think! Bonus: You'll know exactly what's in them!
Frozen Peanut Butter and Banana Treats
Peanut butter and banana are a winning combination!
Ingredients:
1 Cup of Peanut Butter (do NOT use a brand containing xylitol)
32 oz. Plain Yogurt
2 Bananas
Instructions:
Melt the peanut butter in the microwave
Mash the bananas
Mix bananas and peanut butter with the yogurt
Put mixture into cupcake papers or silicone ice cube trays
Your dog will love these frosty treats!
Pumpkin Cookies
Pumpkin is known to be very good for dogs.
Ingredients:
1/2 cup canned pumpkin
4 tbsp water
2 tbsp vegetable oil or coconut oil
2 cups whole wheat flour
¼ tsp baking soda
¼ tsp baking powder
Instructions:
Preheat oven, 350 degrees
Mix pumpkin, water, and oil together in a small bowl
Add flour, baking powder, and baking soda stirring until the dough is pliable.
Take teaspoons of dough and roll into balls
Place on a greased cookie sheet and flatten with a fork
Bake 20-25 minutes until these homemade dog cookies harden
Even your dog will jump on the pumpkin bandwagon next fall.
Sweet Potato Sticks
Raw or cooked, dogs love sweet potatoes.
Ingredients:
1 or 2 sweet potatoes (depending on how many dogs you have)
1 tbsp of coconut oil per potato
Spices: (suggestions: turmeric, ginger, parsley or cinnamon)
Instructions:
Preheat oven to 425 degrees.
Peel the potatoes
Cut the potato into sticks, being careful to make them even
In a Ziploc bag, toss with oil and whatever spices you chose
Place in one layer on a baking sheet
Bake for 30 minutes, flipping halfway through cooking time
Cool before serving
While you're making these for your pal, throw in a few for yourself!
Grain-Free Dog Treats
Grain-free diet? No problem.
Ingredients:
1 cup of chickpea or oat flour
1/2 cup of coconut flour
2 large eggs
1 banana
1/2 cup of peanut butter (do NOT use a brand containing xylitol)
1/2 tsp baking soda
cookie cutters (suggestion: bone-shaped cookie cutter)
Instructions:
Preheat oven, 350 degrees
Mash banana in a large bowl
Beat in eggs until blended
Add peanut butter, beating until smooth
Add the 2 flours and baking soda and fold into the mixture using a spatula-don't be afraid to use your hands if necessary
Roll out on parchment paper
Cut with cookie cutters
Place on cookie sheet and bake for 12-15 minutes until browned
Cool completely
Tip: Use different holiday cookie cutters throughout the year.
Cranberry Cookies
Caution: Be sure to use dried cranberries and never raisins!
Ingredients:
1 1/2 cup whole wheat flour
2 beaten eggs
1 tbsp coconut oil
3 tbsp coconut flour
1/2 cup dried cranberries
cookie cutter
Instructions:
Preheat oven, 325 degrees
Mix whole wheat flour, coconut oil, and cranberries in a bowl
Add eggs and knead to create a dough-it will be a bit sticky
Add coconut flour one tablespoon at a time
Roll out the dough and cut with cookie cutter
Place on parchment covered cookie sheet
Bake for 14-18 minutes
Cool and keep in a container.
The Best for Your Pup
Hope your dog will enjoy trying out these dog treat recipes. We can offer advice on anything dog-related. Stop by and learn all you can for keeping your best friend happy and healthy.