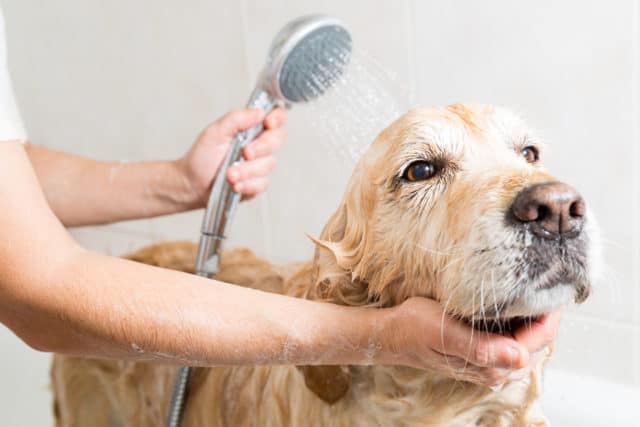 Can't handle your large dog in the bathtub? Whether you just got a large breed puppy, or your mixed breed dog just keeps growing, you need to learn how to bathe it properly.
As your dog gets bigger, it becomes harder and harder to keep them clean, unless you know the drill. Read on to find out how to give a dog a bath at home without making a mess.
Where to Give Your Dog a Bath?
First things first. Unless you have a bathtub or a large enough shower, you will have to give your dog a bath outdoors. This is tricky because in cold weather both you and your dog will suffer, and you will have to use a leash at all times.
If your dog fits in your tub or your walk-in shower, then you should start by acclimating her to your bathroom. Get her in the tub or the shower when it's dry and give her treats in there. Do that regularly so your dog becomes accustomed to the environment of the bathroom.
It's also a good idea to create body language cues about bath time. These are commands you will be giving your dog, like "get in" and "sit down".
Test the Waters
After at least a week of dry training, try to turn the water on. Start small and just splash your dog when they're in the tub or the shower. Avoid the face and use warm water. You don't want to startle them!
Do that a few times until they feel comfortable. You may use more water each time you get them in the tub, but you should wait before getting all soapy. You should also make sure that your dog doesn't learn to drink the water in the bathtub.
Getting Ready
Before the first bath, you have to make sure you are fully prepared. Buy a dog shampoo, get a bunch of towels, a pack of latex gloves, and a dog brush. Also, don't forget you might have to use treats to keep your furry friend motivated.
Before the bath, you should wear a bathing suit and make sure the bathroom door is closed and the floor is not slippery.
It's Bath Time!
Now for the actual dog bath. Start by brushing your dog to remove all mats. If you don't do that, you may clog your bathtub!
Then have your dog enter the tub like in training. If your dog is energetic, you may have to put them on the leash to prevent them from running around in the bathroom. Now it's a good time for the first treat.
Then put on your gloves, make sure the water is warm, and wet your dog. After they're wet, lather up by adding shampoo bit by bit. Start from the neck and work downwards to prevent pests from escaping to your dog's face.
To rinse your dog, use clean water and be patient because this might take a while. Massage your dog and encourage them while you rinse them clean.
Your dog is now clean. Use the towels to dry them and you're done!
Now That You Know How To Give a Dog a Bath…
Any dog owner should know how to give a dog a bath. If you found this article helpful, make sure you check out our other useful How-Tos.