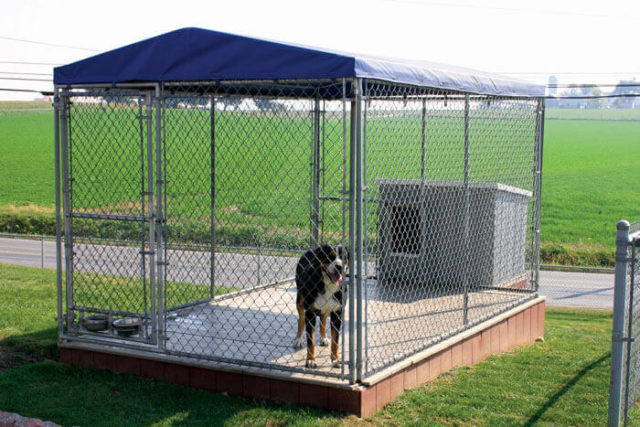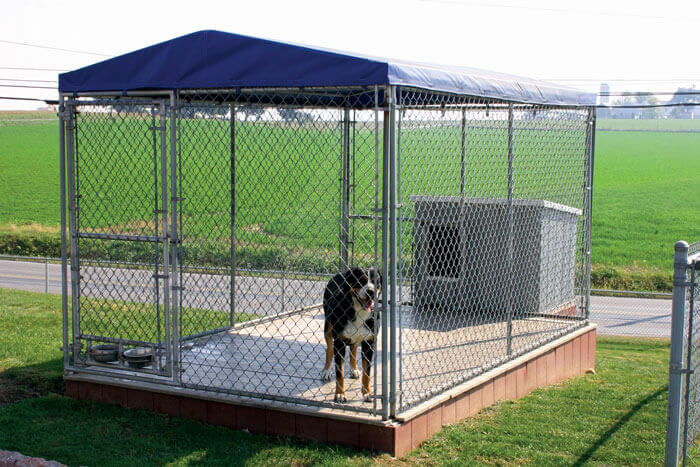 Dogs are supposed to be man's best friend, but sometimes we don't treat dogs like friends. Instead, many dogs are cooped up in inadequate spaces, or they're left to run loose in less-than-safe environments. Also, while it's okay to leave some dogs unattended, other dogs need a confined environment to feel safe until their owner returns. There's a simple and economical solution to this, and that's a chain-link dog kennel.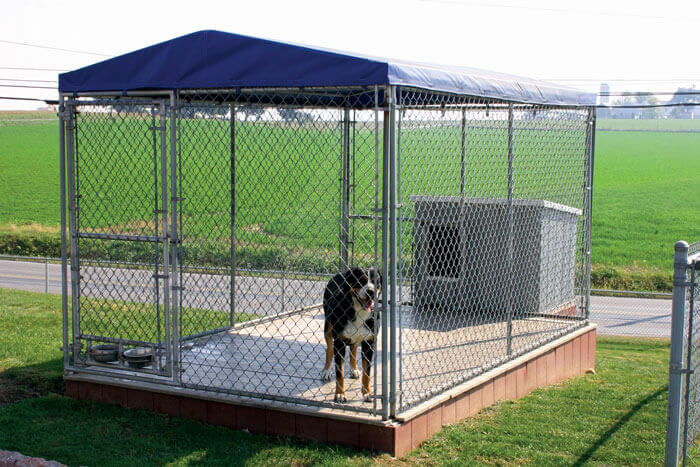 What is a chain-link dog kennel?
It's a freestanding outdoor enclosure with a galvanized steel frame and durable chain link wire mesh. It's portable and can usually be set up in less than 30 minutes using only pliers. When assembled, it provides a secure outdoor containment area where dogs can play and enjoy the fresh air.
How big is a portable chain-link dog kennel?
It varies. Portable kennels for small dogs or for use on a pickup truck bed can be 4×4 feet and 4 feet high. Kennels used in open areas such as backyards can be as large as 10×6 feet and 6 feet high while remaining portable. Typically a large dog cage only weighs between 100 and 150 pounds and can easily be disassembled and moved elsewhere.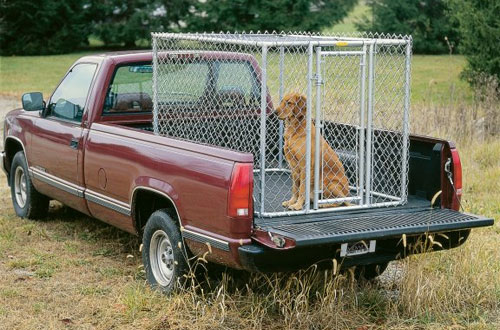 Potential issues with chain-link dog kennels
One potential problem with a smaller dog enclosure pen is sun exposure. If a kennel is set up in a shady area it's usually not an issue, but to be 100% safe it's best to use a cover. Most of the leading chain-link kennels come with some sort of flexible cover.
Covers should be UV-treated and offer proper sunblock protection to keep dogs cool and comfortable. Dog kennel covers are usually made of polyethene, polypropylene, or some other kind of durable weather-resistant fabric. The covers are typically held in place with simple cable ties. If wind or other side exposure is an issue, covers can also be used for sidewalls.
Another thing to keep in mind is that portable dog kennels are meant to be a convenience for both dogs and dog owners, but these aren't supposed to be prisons. You should make sure that the kennel is large enough for your dog.
Also, while portable kennels are generally well made and sturdy, some training may be required to accustom your dog to it and keep your dog from attempting potentially harmful escapes. Similarly, portable kennels aren't designed to keep aggressive dogs contained.
If stability is an issue, you should use anchor kits that keep kennels in place, or the kennel can be installed on a specially constructed base.
Multi-purpose kennels
The use of these chain link-type enclosures isn't limited to just dogs. These can also be used for other animals, such as birds or poultry, or as an enclosure for whatever you want to keep safe from roaming animals or children. There are many potential uses, and the ease of assembly and modularity make chain-link dog kennels a good solution for any number of projects.
What's the best chain-link dog kennel?
This will depend on the size of your dog and primary location of the enclosure. We're not going to do an exhaustive review of chain-link kennels at this point, but here's a list of the two top-selling chain-link kennels on Amazon US. You can use this as a guide to what other dog owners are voting for with their wallets:
1. PawHut 10′ x 10′ x 6′ Outdoor Chain Link Box Kennel Dog House with Cover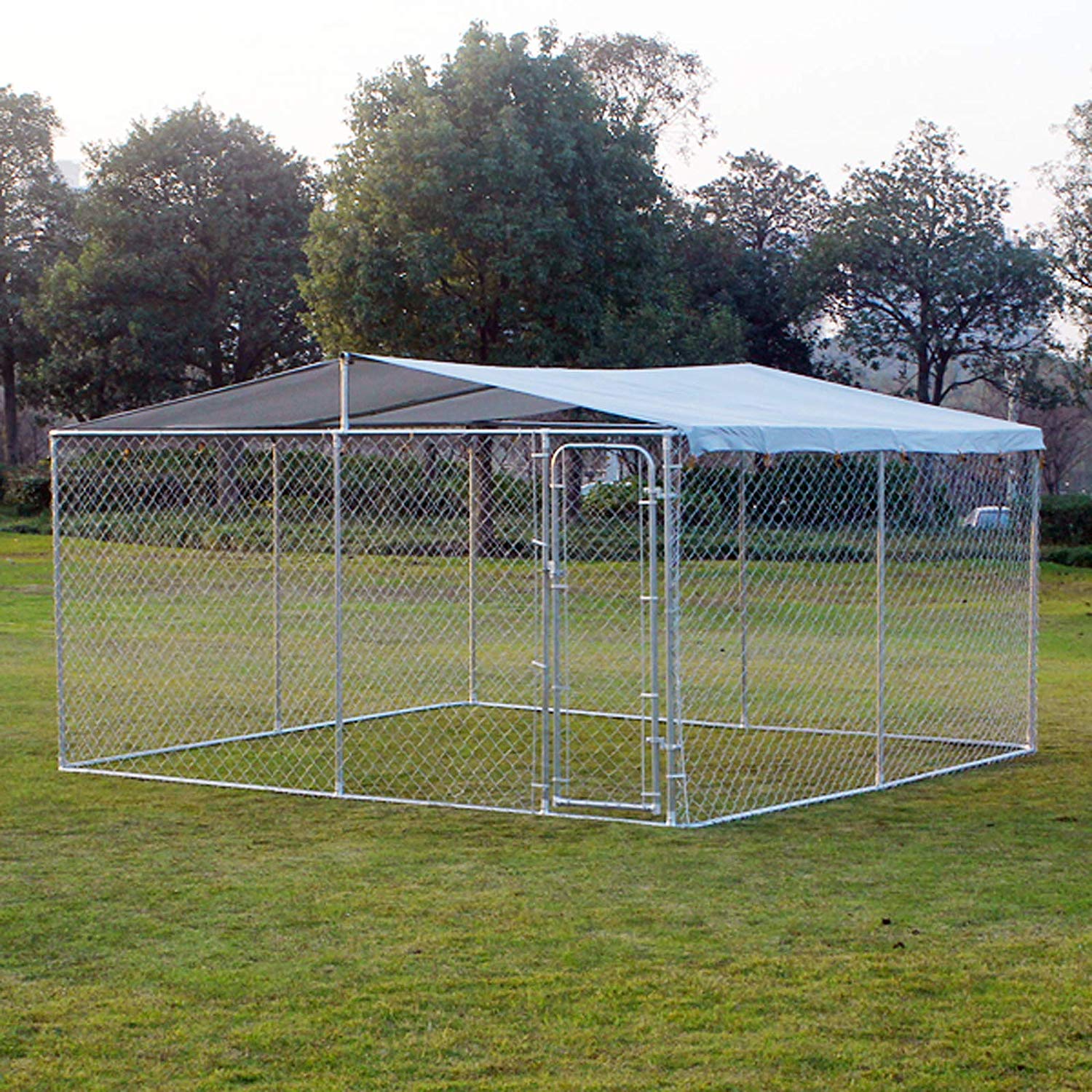 The PawHut is made of a sturdy galvanized metal frame and weighs in around 150 lbs (68 kgs). It's expandable so you can connect multiple kennels without additional parts to create a larger enclosure. It also includes a durable UV and water-resistant tarp cover that helps keep your pets protected from the weather and outside elements. You can view more information about the PawHut on Amazon by clicking here.
2. Lucky Dog Galvanized Chain Link Kennel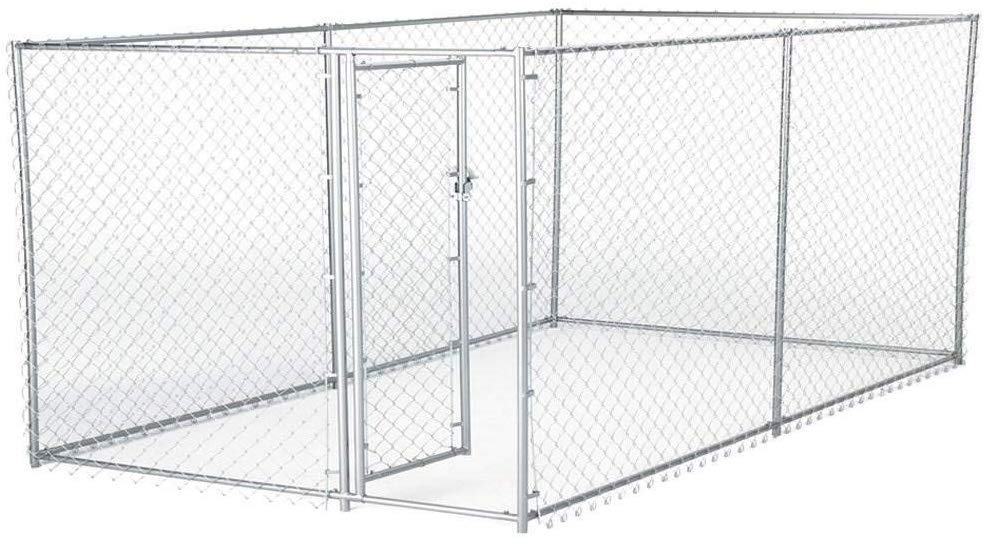 The Lucky Dog chain link kennel has a heavy-duty steel frame that can be assembled by one person. The galvanized chain-link roll will not kink or get tangled. It includes steel wire ties that secure the chain link to the frame, not soft aluminum ties like other brands which can easily be removed by your dog. You'll notice the enclosure is raised slightly off the ground (by 1.5″ raised legs) which makes it easy to sweep or hose out to prevent the buildup of dirt and potentially harmful bacteria. You can view more information on the Lucky Dog Fence on Amazon by clicking here.
Make Your Own Chain-Link Dog Kennel
Instead of buying a chain-link kennel, if you consider yourself a handyman (or handywoman!) you can find a number of Do-It-Yourself options on-line. Just do a search for "DIY Chain Link Dog Kennel" and you'll get a large number of results to sift through, such as the following from Family Handyman.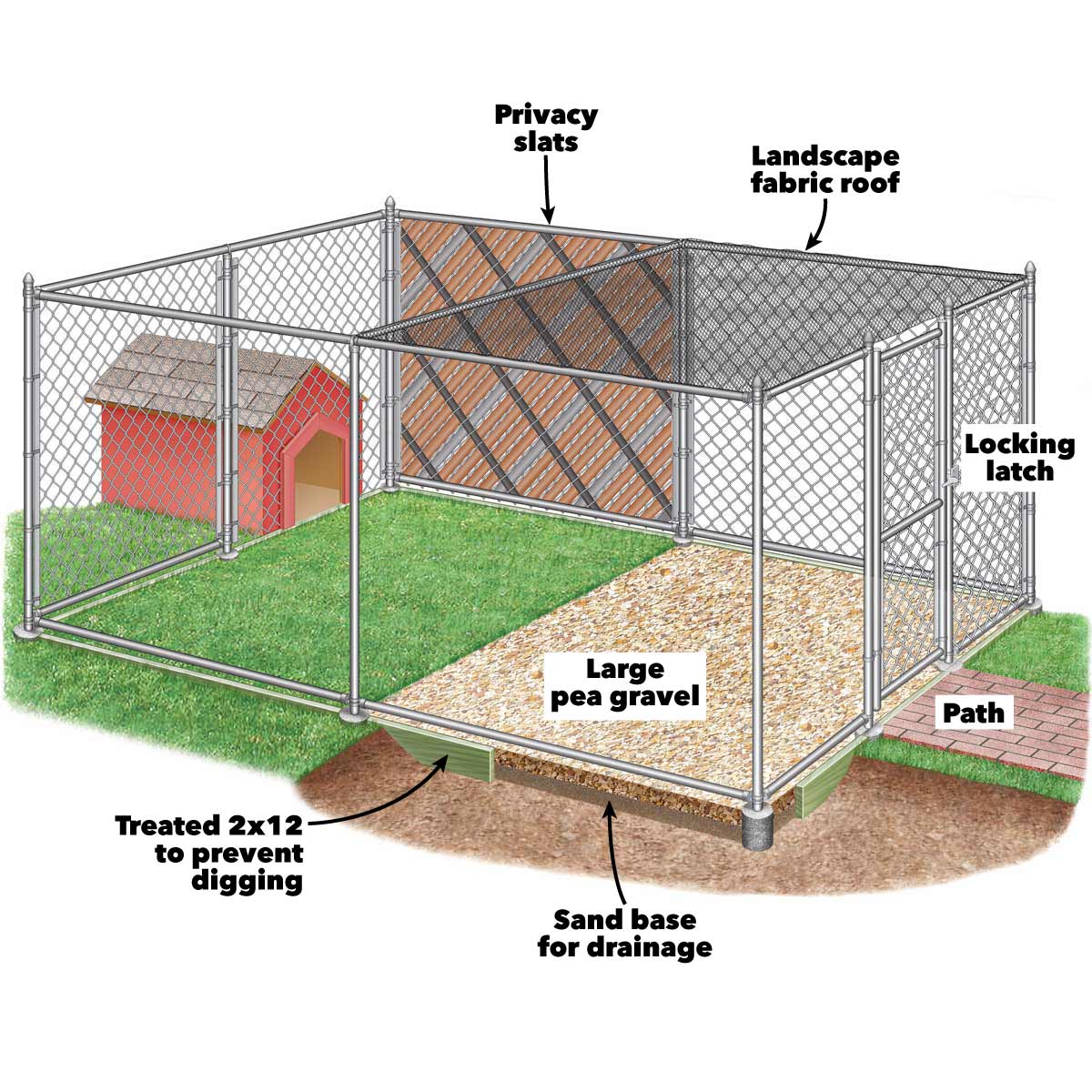 So whether you want to keep your furry buddy from digging up your garden, provide safe transportation, or simply want to provide your pooch with a convenient open-air environment while you're away, chain-link dog run kennels are an inexpensive and practical solution.