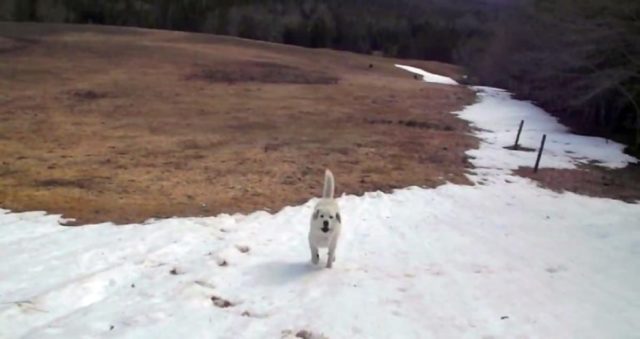 Why do we love dogs? Probably one of the reasons is that they're hilarious. If you are a pet owner, you know what I mean. What makes them very funny?
For instance, a certain dog that seems like playing in the snow is his cup of tea. He knows how to make his owners happy through his amusing acts. When we speak of partying and sliding, the dog is indeed a true professional.
This dog flips over and slides down lying on his back. This allows him to feel the cool and frosty wind. But, wait. The fun doesn't just end there. He is such a smart dog. He immediately rises once he is down the hill.
What a delight to watch the dog playing on top of the snowy hill! It reminds our childhood days where we play in the snow with our friends. That's why winter is among the best seasons for many for having the privilege to be a little kid again.
Also, the dog reminds us to be happy and contented even in small things. The crucial part is for you to appreciate and love them. See how the snowflakes make the dog truly happy and enjoy sliding on it.
Just like this dog and his owners, take time to appreciate the beauty of nature and take advantage of it in a good way. It can also be a wonderful way for both you and your furry friend to establish a solid relationship and good memories. Have a nice cup of hot chocolate or soup at the end of the day. Perfect for chilly weather.
You can watch this adorable dog's video below:
Video source: We Love Animals via their website
Thanks to our friends over at We Love Animals for sharing with us the original story.