Your dog's well-being and overall health are important to you, as is keeping down the cost of veterinarian bills! So you need to carefully consider what you feed your dog. Dog owners sometimes pick the first dog food brand they see at the store or opt for slick packaging. Remember that it's easy to overlook the importance of dog food, but it's critical to pick the right food for your dog.
To keep your dog healthy, they need plenty of water and good quality dog food in amounts just right to meet their energy requirements. Make sure you pay attention to the guidelines on the dog food package for recommended feeding amounts.
Picking The Right Dog Food
The first challenge of choosing the right dog food is finding one that has an overall high quality. One term that comes up often is "human grade" dog food, meaning the dog food is good enough for humans to eat. A lot of commercial dog foods are made from materials unusable, unfit or less desirable for human consumption.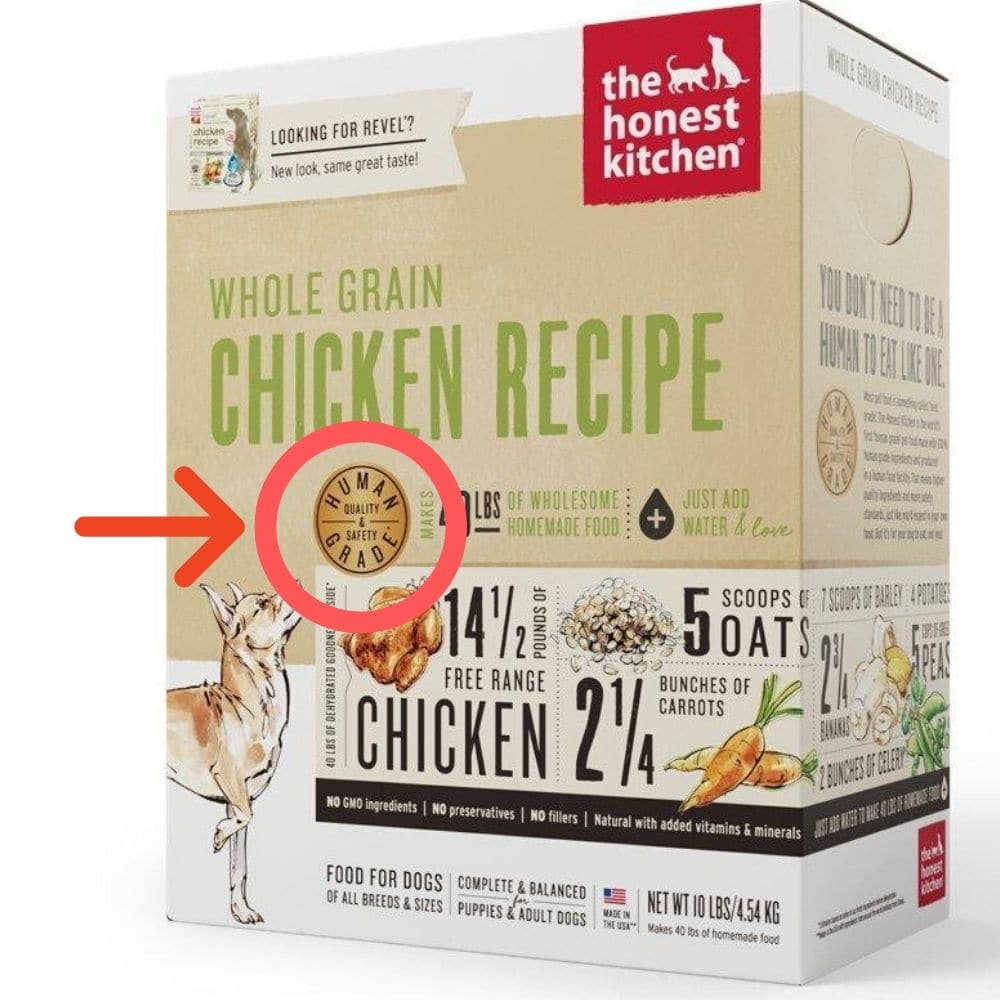 Major dog food companies attempt to provide a proper balance of minerals and vitamins for your dog. Most brands of dog food may have seemingly identical labels, however, a reputable dog food brand will go a step further and provide an explanation of each ingredient and how it benefits your dog.
Make sure you read the label to see what vitamins, proteins and minerals are being provided to your dog. You should avoid most store brand dog food as it may short change your dog on much-needed nutrition.
Various studies have shown that the primary ingredient in dog food should be meat-based protein, not flour, cornmeal, or corn gluten meal. The right quality dog food results in a healthier coat, firmer stools, and fewer digestive problems. Dog nutrition experts agree that the best dog food is made from human-grade ingredients like whole grains, meat, and vegetables. Remember that premium dog food is essential to your pet's well-being because proper nutrition is essential for a long, healthy life.
Varieties of Dog Food
There are heaps of varieties of dog food to pick from. The three most popular types are semi-moist, dry, and canned. Make sure you check the color of your dog food. In most cases, dog food made from natural ingredients should be colored in soft earth tones and contain no artificial flavors, preservatives, and artificial colors.
Raw dog food is becoming increasingly popular. More and more vets are recommending it as the best and healthiest choice for your dog. In some ways, it's self-evident, as you know how much your dog enjoys a good meaty bone over most commercial dog foods.
A raw food diet costs more than traditional dog food, but raw food advocates argue it's worth it. You might find that locating natural homemade dog food recipes isn't easy. Try a mixture of ground turkey, carrot and rice. Your pooch will thank you for it.
If you elect to go the commercial route, choose a good quality premium dog food since these typically contain more energy and protein than economy brands. Unfortunately, not all dog food brands contain high-quality natural ingredients, so make sure you check the label. It's best to ask your vet before deciding on which dog food to feed your dog or puppy. They'll know your dog's dietary needs, and you'll find that most veterinary offices and feed stores usually carry excellent natural dog food.
All Natural Dog Food
Most natural dog foods contain only fresh, wholesome and, unsurprisingly, natural ingredients for your dog. Both the proteins and carbohydrates are digestible, and most natural dog foods have 100% nutritional value which is vital to maintain strong and healthy dogs. Fish, chicken, and egg are examples of proteins that are provided in natural dog foods. As well, there are usually ingredients in natural dog food that help the health of your dog's skin and their coat. One of the main drawbacks of natural dog food is that it has a shorter shelf life than commercial brands and may spoil before it's used.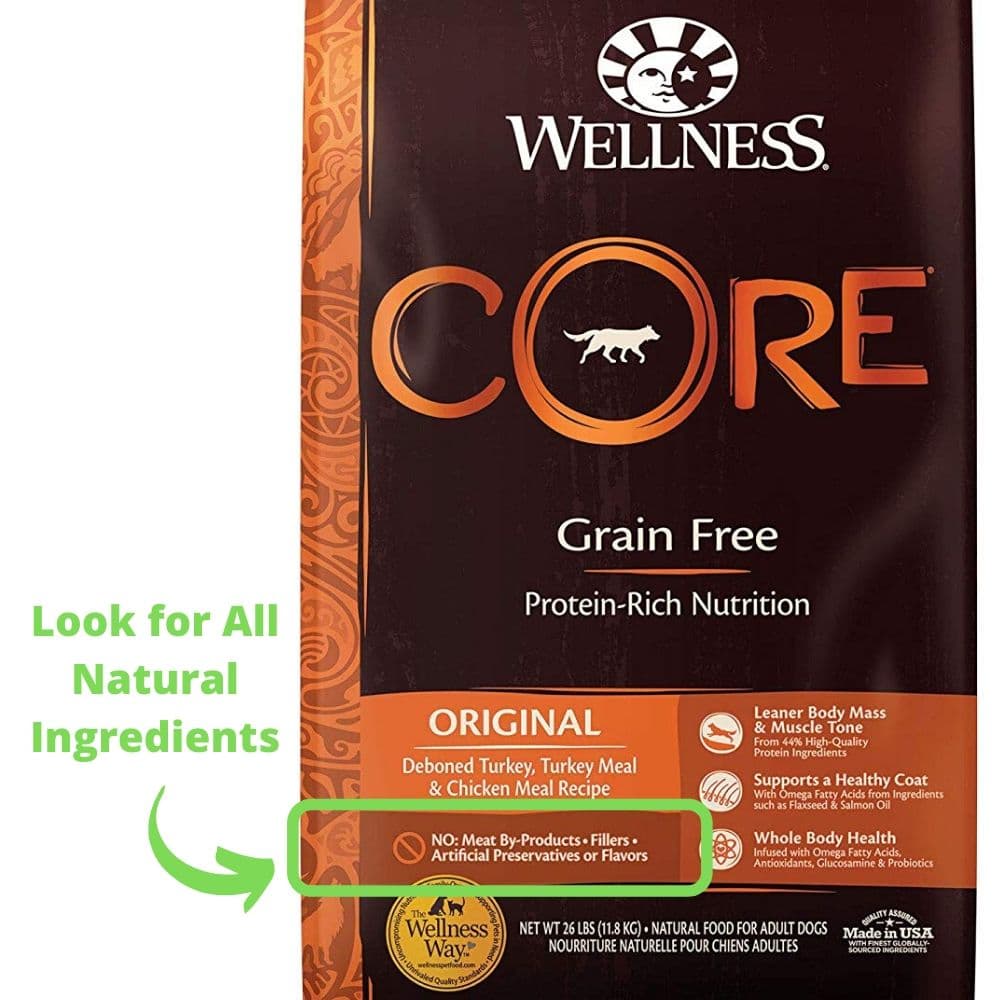 Dried Dog Food
An excellent high-quality dry dog food will typically to be more economical than generic brands even though it may cost more per pound. Most dog owners opt for dry dog food because it's convenient and easy to store. Cheaper dry dog foods are typically made from soybean, corn or rice, while most premium dry dog foods are made with human-grade, all-natural ingredients.
Vegetarian Dog Foods
Vegetarian dog foods are specially formulated for dogs that are allergic to chicken, wheat, or corn. Some vegetarian dog foods marketed to owners who don't want their dogs consuming meat products. Given the absence of proteins, most vegetarian dog foods will substitute soy as a protein source. Make sure you consult your vet before putting your pooch on a specialized diet, especially if they have food allergies.
Conclusion
Bottom line, it's typically best to let your dog enjoy dog food instead of our food, even though they may think they prefer what we're eating! And remember to feed your dog treats from time to time. After all, every dog needs some special TLC from time to time!