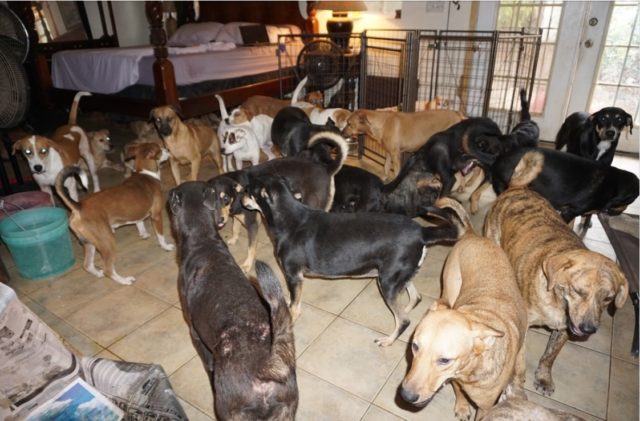 As Hurricane Dorian leaves severe damage in its wake, it also highlights how the worst of times can showcase the kindness of so many wonderful people towards each other and our furry friends. Here are a few wonderful examples.
Woman in the Bahamas Brings 97 Dogs Into Home
ABC News reported on how Chella Phillips from the Bahamas brought 97 homeless and abandoned dogs into her home.
"It was either leave the dogs on the street to fend for themselves, or do something about it," Phillips said. "I just want these dogs to be safe."  Phillips mentioned that she lost power and some water come into her home, but everyone was thankfully doing well.
Phillips runs a dog rescue called The Voiceless Dogs of Nassau, Bahamas, and mentioned that she brought in as many dogs as possible, but many remain in the streets.
Middle Tennessee Animal Shelter Welcomes Florida Dogs Ahead Of Hurricane Dorian
As Hurricane Dorian inched closer to the US East Coast, animal shelters are trying to make room for four-legged hurricane evacuees to help avoid a life or death situation for the animals.
Big Fluffy Dog Rescue based in Tennessee has already welcomed five dogs, mainly Pitbulls, from a shelter in Florida, with more expected to arrive.
The dogs arrived in Tennessee by plane through the Pilots N' Paws program, which is a nonprofit focused on rescuing animals from dangerous situations.
"It's just so heartbreaking," Big Fluffy Dog Rescue Groomer Juliana Bauer said. "I don't understand how people can just leave their animals, they're family!  They're part of something. They shouldn't just be left behind like they're nothing."
Virginia Animal Rescue Group Finds Home For Dogs From South Carolina Affected By Dorian
Lucky Dog Animal Rescue is another noble organization that answered an urgent call to clear 19 dogs from a South Carolina animal shelter to make room for pets displaced by the hurricane.
The Virginia-based group got a call on Sunday from the South Carolina shelter, which needed to make room for the pets of people ordered to evacuate.
This meant that Lucky Dog Animal Rescue, which does not operate a shelter, had less than 12 hours to find foster parents for 19 dogs, including 9 puppies.
The organization got the word out for foster parents or families, and the response was amazing.
"There are many people here in the D.C. area who just opened up their homes, and said 'I can take a dog; I can take a litter of puppies,'" said Mirah Horowitz, executive director and founder of Lucky Dog Animal Rescue.
The animals are available for adoption. For those who can't adopt, they can help the organization with donations, or as a foster willing to take in dogs. That is something the organization will need, as they plan to pick up more animals from South Carolina.
Please contact them if you think you can help.